Asian Pacific Mathemathics Olympiad
Asian Pacific Mathematics Olympiad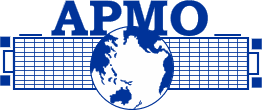 Senior Coordinating Country
Mexico (2016-2019)
apmo@ommenlinea.org
Assistant Coordinating Country
Brazil (2018-2019)
Moderating Country
Philippines (TBC) (2018)
Current Members of APMO
ARGENTINA, AUSTRALIA, AZERBAIJAN, BANGLADESH, BOLIVIA, BRAZIL, CAMBODIA, CANADA, COLOMBIA, COSTA RICA, ECUADOR, EL SALVADOR, GUATEMALA, HONG KONG, INDIA, INDONESIA, IRAN, JAPAN, KAZAKHSTAN, KYRGYSTAN, KOREA, MACEDONIA, MALAYSIA, MEXICO, NEW ZEALAND, NEPAL, NICARAGUA, PAKISTAN, PANAMA, PERU, PHILIPPINES, RUSSIA(ASIAN PART), SAUDI ARABIA, SINGAPORE, SRI LANKA, SYRIA, TAIWAN, TAJIKISTAN, THAILAND, TRINIDAD AND TOBAGO, TURKMENISTAN, URUGUAY, UNITED ARAB EMIRATES, UNITED STATES OF AMERICA
Observer Countries
ALGERIA, HONDURAS, SOUTH AFRICA
The Asian Pacific Mathematics Olympiad (APMO) started from 1989. The aims of the APMO include:
the discovering, encouraging and challenging of mathematically gifted school students in all Pacific-Rim countries
the fostering of friendly international relations and cooperation between students and teachers in the Pacific-Rim Region
the creating of an opportunity for the exchange of information on school syllabi and practice throughout the Pacific Region
the encouragement and support of mathematical involvement with Olympiad type activities, not only in the APMO participating countries, but also in other Pacific-Rim countries.
The APMO contest consists of one four-hour paper consisting of five questions of varying difficulty and each having a maximum score of 7 points. Contestants should not have formally enrolled at a university (or equivalent post-secondary institution) and they must be younger than 20 years of age on the 1st July of the year of the contest.
Every year, APMO is be held in the afternoon of the second Monday of March for participating countries in the North and South Americas, and in the morning of the second Tuesday of March for participating countries on the Western Pacific and in Asia. The contest questions are to be collected from the contestants at the end of the APMO and are to be kept confidential until the Senior Coordinating Country posts them on the official APMO website. Additionally, each exam paper must contain a written legend, warning the students not to discuss the problems over the internet until that date. 

All APMO contestants will receive a Certificate of Award, Honourable Mention or Representation. The constraints for the issuing of Award certificates in general for a particular country are as follows:
To determine the overall numbers and levels of gold, silver and bronze award certificates, the following guidelines are to be used:
(a) Maximum total number of award certificates (n+1)/2, where n is the total number of APMO contestants. When ties occur, increase number.
(b) Scores for gold awards at least m+s,
scores for silver awards at least m+(s/3), and
scores for bronze awards at least m-(s/3). Here m is the mean APMO score and s is the standard deviation of all the APMO scores.
For a particular country the number of
(a) Gold awards must be at most 1,
(b) gold + silver awards must be at most 3, and
(c) gold + silver + bronze awards must be at most 7.
A certificate of Honourable Mention will be awarded to any contestant who has not received an Award certificate but who has performed creditably according to some criteria (variable from year to year and dependent upon the actual spread of scores) determined each year by the Senior Coordinating Country after consultation with the Assistant Coordinating Country; for example, a contestant who has obtained a perfect score of 7 for at least one question or has obtained scores of 5 or 6 for at least two questions.